services
Here you will find our offers for the supply of student residences, micro apartments or a boarding house with fast and reliable Internet connections via LAN, TV networks, WiFi and DSL.
---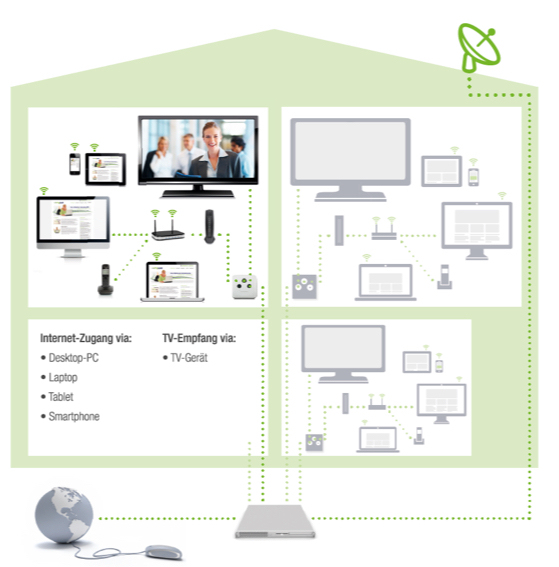 Internet, WiFi, phone and TV via the
TV cable network
As one of the few Internet providers on the market, we are in a position to offer professional Internet connections and WiFi coverage on the basis of an existing TV cable network system. You do not need any internal LAN cabling; even older TV tree networks are no problem for us. We use the same technology as the large cable network operators. With mostly no or only minor structural changes, we can provide fast and reliable Internet connections for the residents in all rooms.
The TV supply is mostly realized via a SAT headend in digital quality.
Of course, it is also possible to feed in cable television from the local cable network operator.
---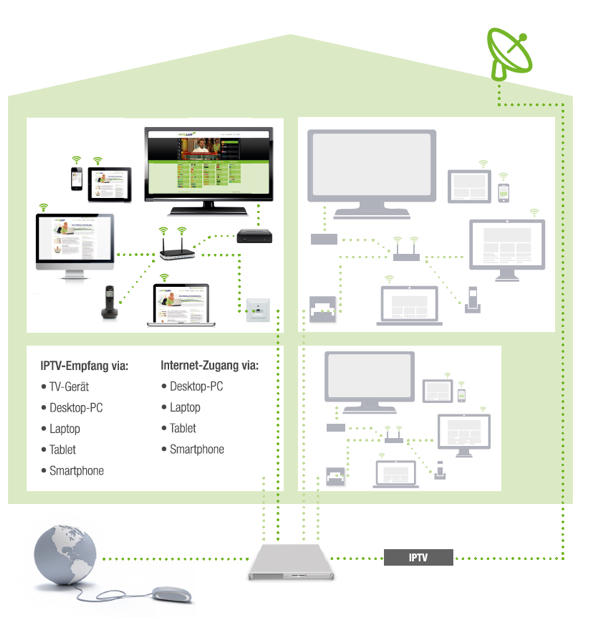 Internet, WiFi, phone and / or IPTV via
LAN cabling
Using structured LAN cabling, we can provide residents with fast Internet connections, comprehensive WiFi and a wide range of IPTV services with many national and international programmes in digital quality. A TV set can be connected via a set-top-box. In addition, all programs can also be received via the computer.
We will be happy to coordinate the programme with you in order to offer your residents an optimal media experience.
---
Connection concepts for
Your properties
We have a variety of options for connecting your properties to the Internet or the state university network:
fiber optic
directional radio
TV cable network
(V)DSL
We already check the technical possibilities in your properties during the property inspection in order to be able to offer you the best possible supply concept. Cost efficiency, efficiency and the satisfaction of your tenants are our top priorities.
---
Your benefits in the
Overview
Cost-effective internet, phone and (IP)TV connections for your residents! Of course without individual activation fee and specially tailored to your requirements.
Billing as collective collection via the incidental rental costs or with the residents via individual billing
Compliance with legal framework conditions of the TKG and privacy policy!
Comprehensive support and multilingual 24h hotline for your residents
Increases in the residential value of your real estate with mostly no or only minor structural changes
Full service from a single source - nationwide.
Integration of building management systems (BMS) and secure networking of your offices with modern VPN technologies